MADISON – Sarah Larson, Program Manager for the Food Finance Institute (FFI), has been selected to serve in two important food-related leadership roles.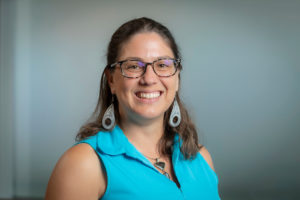 Larson is filling Mayor Satya Rhodes-Conway's former seat on the Madison Food Policy Council, which drives policies, programs and resources that support the local and regional food system. Larson also has joined the board of directors for the Willy Street Co-Op, an economically and environmentally sustainable grocery business that supports local and organic suppliers.
"These are two exciting opportunities to serve my community," she said. "It's a crossover of my professional life and personal passions – strengthening our community and economy through food."
FFI's mission is to make sophisticated financial technical assistance available to every growing food, beverage and value-added farm enterprise. Larson, who joined FFI in January, manages FFI food and entrepreneurial agriculture specific programs, the grants associated with them and an industry-specific market research data program. She also provides client consulting support.
"These appointments are a terrific recognition of Sarah's many contributions to the food sector in Madison and beyond. We're proud to have her as part of the FFI team," said Tera Johnson, FFI Founder and Director.
Established in 2012, the Madison Food Policy Council develops and recommends policies to the mayor and Common Council in support of equitable access to healthy, culturally appropriate food, nutrition education and economic opportunity. Since 1974, the Willy Street Co-Op has grown to three grocery locations and more than 35,500 active owners.
Larson brings extensive professional experience in the food sector to her new roles. She helped launch the national tera'swhey® brand and was the first employee at Wisconsin Specialty Protein (WSP). She worked as National Sales Director for Ona Foods and Farm to Business Program Director for REAP Food Group. And she served as theAmeriCorps Farm to School Program Director for the Wisconsin Department of Agriculture, Trade and Consumer Protection.
Beyond work, Larson has a history of contributing time to community organizations, including:
The City of Madison's Public Market Development Committee
The City of Madison's Vending Oversight Committee
The Let's Eat Out! Food Cart Collective Board
The Slow Money Wisconsin Board
"Sarah is a joy to work with. Since starting, she has quickly jumped in and has been essential to us growing our impact and opportunities to reach more food and farm entrepreneurs," said Zacary Smucker-Bryan, FFI Program Manager.
Larson earned bachelor of arts degrees in English, philosophy and environmental studies from the University of Wisconsin-La Crosse, an associate of science degree as a dietetic technician from Madison Technical Area College and a master's degree in public health with a food systems emphasis from the University of Wisconsin-Madison.