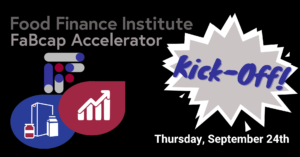 MADISON – Ten emerging food and beverage sector entrepreneurs have been selected to join the Food Finance Institute (FFI) FaBcap Accelerator.
The Class of 2020-21, chosen from 35 applicants, represents eight Wisconsin cities and showcases innovation across multiple categories. This year's group includes two technology companies and eight food brands that highlight baked goods, meat, snack foods, frozen food, beverage and syrup.
The nine-month accelerator program, in its fifth year, includes coaching support from food business and innovation expert Brad Rostowfske and business optimization programming. The courses — in finance & accounting, sales/distribution, marketing/branding, operations/organizational planning, sources/uses of capital and food safety — are available á la carte through the FFI Scaler Series.
The Class of 2020-21 will be introduced Sept. 24 during a virtual FFI FaBcap Accelerator Kick-Off Event, which also will includes a presentation on data-driven innovation in the food sector.
FFI began hosting the accelerator and scaler series this year in partnership with their founding organization, FaB Wisconsin. The effort is supported in part by the Wisconsin Economic Development Corporation (WEDC) and the Wisconsin Small Business Development Center (SBDC) Network, as well as our newest corporate sponsors Farm Credit and Madison Gas and Electric.
"The Scaler series paired with other services from FFI are a great way for businesses who are not yet accelerator ready to better position themselves for profitable growth," said Rostowfske, FFI FaBcap Accelerator Program Manager. "As the FaBcap Accelerator settles into FFI, we look forward to leveraging existing programming -like our Financial Management Boot Camp and partnerships with the SBDC – to fulfill FFI's mission of providing technical assistance to all expanding food and farm business."
About Food Finance Institute
The Food Finance Institute (FFI) leverages and supports a collaborative network of professionals focused on building and funding profitable businesses in the food, beverage and value-added agriculture sector. Through training, coaching, resources, tools and mentorship, FFI fulfills its mission of making sophisticated financial technical assistance available to growing enterprises. In addition, FFI is the home of the Edible-Alpha® brand. Edible-Alpha® is a digital resource hub that includes the Edible-Alpha® podcast and our insights newsletter. FFI is part of the University of Wisconsin System's Institute for Business & Entrepreneurship. www.foodfinanceinstitute.org | www.edible-alpha.org